A slot machine on wheels. Game or modern art?
Modding is probably one of the most popular hobbies of modern inventors. This process implies the so-called "pumping", making changes in the design and appearance of ordinary machinery, in order to make something completely original and unique with new unusual characteristics and spectacular, and sometimes even shocking appearance and principle of work out of the usual things.
Sometimes inventors are so carried away that they literally go beyond the usual modding, creating truly fundamentally new inventions on the basis of already existing ones. For example, could you imagine a mixture of a car and a slot machine?
It sounds very strange and looks even more extraordinary. Instead of a windscreen in front there is a deaf "back" of a slot machine, and in front of the driver's eyes there is a wide monitor on which the game is played. You may ask, how can you drive like that? The answer is very simple. The fact is that in addition to the car and SEGA "OutRun" slot machine, this amazing device is also built into the iPhone. It makes the "one-armed bandit" on wheels moving slot machine with elements of augmented reality.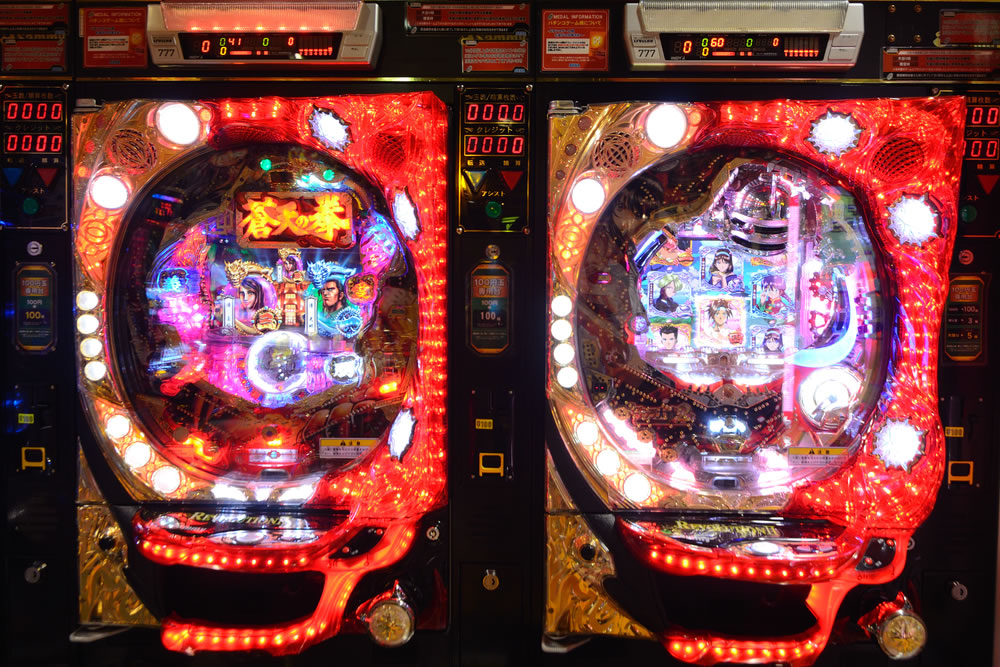 This amazing extravagant vehicle was created at the University of Irvine, California. The project was headed by Garnet Hertz (Garnet Hertz), a conceptual contemporary artist. He created this car as a gesture of contemporary art. And while in terms of aesthetic value this work may be controversial, there is no doubt about its originality.
You can literally drive in reality on a virtual road on a slot machine
"OutRun" is an arcade slot machine from SEGA, which was originally a completely separate game, not created for this device from Garnet Herzema. It is a racing simulator with fairly simple, primitive graphics.
Thanks to the "brains" from IPhone, built into the device, while driving, with the help of two cameras and GPS navigation, the monitor displays a real map of the area, converted to 8-bit graphics game. Image changes directly in real time, according to the movement in space of the vehicle. Its speed is low – a maximum of 32 km / h, but the thrill of driving such a car is guaranteed even at "turtle" speed.
Of course, this unusual car is still far from perfect, but the concept is very original and interesting in itself.
"Online machines" – a virtual casino of the new generation
In recent years, with the development of virtual reality and stricter laws banning casinos in Russia, the Internet gambling industry has developed significantly. It is hard to imagine an active internet user who has never once come across an advertisement or any information about online casinos and is slots empire legit on the web. However, despite the abundance of virtual "gambling houses", users sometimes lack their variety.
Nowadays, "new generation" online casinos are replacing similar, standardized sites with stylish and creative, pleasant interfaces and an abundance of up-to-date information.
The most striking representative of the "new casinos" can be called a recently opened club "Online machines". Site is decorated in today's fashionable style of pixel art, with taste and understanding of the latest trends in design. It will not irritate hackneyed trite tricks to attract attention, in the spirit of obtrusive animation, absurd images and frankly ridiculous inscriptions. Instead, a bright but discreet, stylish and fun resource interface will guide guests through the pages with a huge collection of games and useful information.
A new generation club
In the "Online Slots" club, the user is not only offered to make a bet (as in most online casinos), but also given the opportunity to learn a lot of interesting things. Here you can become an expert in the field of gambling, learning the rules, history and features of baccarat, blackjack, roulette, poker, and, of course, online slots. Here you can learn the ratings of the best casinos, the best slot machines and the best manufacturers. Here you can learn how to understand video game manufacturers by reading an article about each of them. By the way, the site presents games from more than forty of the best companies-manufacturers from all over the world! Here you can always read the latest news from the world of gambling, find out about the release of interesting new products from famous creators, the record winnings, the ups and downs of the famous casinos from around the world.
All of these features are available without registration to any guest who comes to the site. However, perhaps everyone who cares one way or another about the world of gambling, can not resist the temptation to register at this club for only 15 seconds!
Slot machines online "new generation" will give the opportunity with interest to spend your free time, play and win.
A slot machine from a jerry can! A masterpiece of home modding
Among modern inventors, professional and not very popular nowadays is the modding of slot machines. Thanks to dreamers with an engineering vein, now there are the most amazing slot machines, such as slot machine-car, slot machine-robot and the like.
Sometimes for the creation of such unusual devices are organized whole teams at educational institutions or industrial enterprises. However, many such inventions are embodied directly in home workshops, garages and basements. And it is precisely such, homemade masterpieces of modding are sometimes the most amazing and unusual.
For example, in the United States not so long ago was made a slot machine from the most common two-hundred-liter metal canister!
This unusual device became known thanks to the social news site "Reddit", where each registered user can post any interesting information.
This opportunity was seized by a guy named Uhohthommo, nephew of the amateur inventor. On the site, he told in detail about how his talented uncle right in his garage, using improvised means, turned an ordinary metal barrel of 200 liters into an original, interesting, and characteristically very easy to use slot machine.
You can see from the pictures Uhohthommo posted on his website that the canister machine looks very unusual. On the surface of the metal barrel is a LCD screen, and the sides are built in controllers.
The machine is based on a circuit board with 60 classic games, some of which are designed for two players. Since the control panels are facing each other, you can literally play with your opponent "face-to-face," which makes the game even more entertaining.
Of course, such amazing slot machines – a single instance, and to become the owner of a similar device, most likely you will have to make it yourself. However, having the desire to play, you can find a source of interesting and high-quality slots even on the Internet.
Types of casinos. What kind of gambling clubs are there?
Gaming clubs or casinos are where dreams come true and legends crumble, where the rich lose their millions, and the most ordinary people become millionaires. It is "music, songs, wine", a luxurious life, which can be enjoyed at least for one evening, and get vivid impressions for life, even without winning anything.
And although for many ordinary people this image is limited to institutions with bright signs and noisy slot machines somewhere in Las Vegas, in fact there are several different kinds. Each of them is calculated on the category of visitors and on the different legal responsibility of the organizers of institutions.
So, gambling clubs and their main types:
Ground-based public;
Migratory;
Closed;
Virtual.
What can be said about each of these types?
Terrestrial publicly accessible establishments
The ground-based public is the most common, classic type. This is the most glittering and burning bright signs institutions, where you can enter "mere mortals", and come out the owner of a tidy sum. Public casinos are familiar to us from movies. They usually have special gaming zones, like Las Vegas or Macau, where gambling is officially allowed. There are plenty of slot machines, card games and other attractions for every taste.
Migrating establishments
Migrant casinos are most often floating. They are located on board of a ship, ferry or ocean liner, less often on an airplane or train. The meaning of such institutions is not only exotic. First of all, they use this format to get around the ban on gambling. In countries where gambling is officially banned but has access to neutral waters, you can easily sail a ship at a desired distance from the shore and play slot machines on the water all night long.
Enclosed casinos
In closed casinos you won't be lured by brightly colored signs. On the contrary, to get there will be extremely difficult, almost impossible. Some of the closed clubs have special requirements for their visitors. Others and do not allow a strictly limited range of persons in its walls. You can get into most private clubs only by acquaintance or with a very high social status. Often even the presence of a lot of money is not a pass to the closed institution.
Virtual gambling clubs
Virtual clubs are a product of modern technology and strict laws. In countries where gambling is prohibited, you can freely play slot machines right on the Internet. On the pages of full-house24.ru you can learn in detail about the structure and offers one of the popular virtual clubs. To play and win online, you do not need to carve out any particular time, somewhere to go, to prove to someone your competence. Just at any time you can go online and make a couple of bets. In addition, this is where you can find the most extensive catalogs of game offers.
No matter what kind of casino a guest happens to be in, vivid impressions and an interesting pastime will be guaranteed.
What is the secret of the popularity of online casinos?
Virtual slot machines have appeared on the Internet for quite some time. And, although they are not the first year of existence on the network, the interest of Internet users to them does not fade. On the contrary, more and more new online casinos have been opened recently and they, in turn, are preparing new gifts for their visitors.
What is the secret of success of virtual casinos. So, what is the attraction of online gambling clubs?
First, the opportunity to play for free. Judge for yourself, even the most famous casinos in the world can please their visitors anything (from the luxurious interiors and treats to circus performances and live music), but not free gambling. In any institution in Las Vegas, you will not be allowed a couple of times to spin the roulette wheel "for fun", but here, online – just right!
Secondly, accessibility. In our country "land" gambling clubs are prohibited, but to fly overseas to look into the casino night, can and will not everyone. In the same way, to bet on the Internet, you can not even get up from the couch.
Thirdly, no need for registration. If you want, any visitor can play in free mode on all machines, without wasting time on registration and not specifying anywhere their personal data.
Fourthly, it is mobility. In order to go to a virtual casino, any gadget with Internet access is enough – from a laptop to an iPhone. The beauty of this game is that it does not need to carve out time specifically and create any suitable conditions. You can just make a couple of bets right during a break, a cup of coffee at work, or standing in traffic on the road.
Fifth, variety. Talented developers are constantly presenting users some new approaches, new styles, new genres of games. Entertainment in virtual clubs are not reduced to the banal duel with his own luck. Many games are designed for thoughtfulness and logic, the ability to calculate in advance the moves and make smart tactical decisions.